Skip Navigation
The future of health is in you.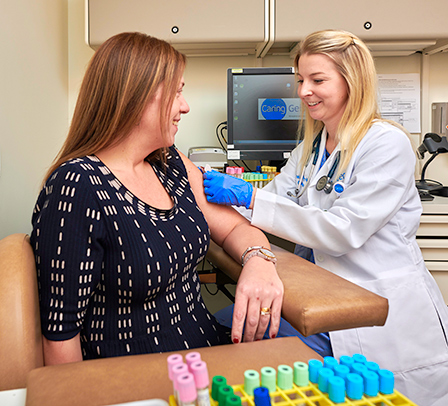 "I absolutely love working for Careworks. I love that I get to see people of all different ages. I like the idea of providing urgent care to my patients and, when needed, helping to point them in the right direction for follow-up care. I also really enjoy
… Read More
New article alert


Be the first one to read news and information.

Subscribe to our RSS feed
---
Rabbit virus improves bone marrow transplants
University of Florida Health researchers have discovered that a rabbit virus can deliver a one-two punch, killing some kinds of cancer cells while eliminating a common and dangerous complication of bone marrow transplants. For patients with blood cancers such as leukemia and multiple myeloma, a bone marrow transplant can be both curative and perilous………Go to Health news blog (Added on 6/05/2015 2:18:18 PM)
Measuring treatment response for guiding leukemia treatment
Measuring the concentration of leukemia cells in patient bone marrow during the first 46 days of chemotherapy should help boost survival of young leukemia patients by better matching patients with the right intensity of chemotherapy. St. Jude Children's Research Hospital investigators led the research, which appears in the March 20 edition of the journal……..Go to
…
Read More
Podcasts
by Natural Medicine Journal
This update features information about recovery from Covid-19, antibody testing, how long the virus lives on surfaces, healthcare disparity that increases risk of death, and new information about air pollution and Covid-19.
by Natural Medicine Journal
This podcast addresses new information regarding the loss of smell and taste as symptoms, as well as airborne spread of the virus. In addition to being editor-in-chief of the Natural Medicine Journal, Tina Kaczor, ND, FABNO, has been seeing patients since earning her doctorate from the National University of Natural Medicine in 2000.
Abstracts & Commentary
by Jacob Schor, ND, FABNO
A recent study that combined tissue culture, mouse, and human data creates a compelling argument that pollen exposure weakens innate immune defense against viral infection—and not just in allergy sufferers.
by Lorinda Sorensen, ND, LAc
A recent study found that eating more than 2 servings a week of
…
Read More
Barnes-Jewish Hospital is a 1,400-bed nonprofit teaching hospital — the largest in Missouri.
It has been consistently ranked in the top ten hospitals in the nation by US News and World Report.

The physicians treating patients at Barnes-Jewish Hospital include the 750 full-time clinical faculty of Washington University School of Medicine who treat adults. In addition, over 200 community physicians, who are part-time faculty members of the medical school, admit patients to the hospital. 
The medical staff is augmented by a house staff of more than 850 Residents and Fellows (physicians in post-graduate specialist training) and interns. The physician practice is supported by an exceptional team of professional nurses, technicians, and administrative and support personnel.
Barnes-Jewish Hospital is fully accredited by the Joint Commission on Accreditation of Healthcare Organizations.  
The Emergency Department at Barnes-Jewish Hospital is a Level I Trauma Service, seeing 80,000 patients annually. Barnes-Jewish Hospital is a
…
Read More