Rochester Fitness and Cycling provides the highest quality fitness and cycling equipment. We guarantee that our products will get you on the right track towards a happy and healthy lifestyle. We take pride in educating our clients about health and fitness and will go out of our way to make sure you get the right piece of fitness equipment or bike that you purchase.
Choose from a vast array of fitness accessories, including Advocare nutritional products as well as fitness clothing lines and eyewear from reputable brands like Cannondale and Endura. At our online fitness store, we offer some of the best designed barbells ever manufactured. Our bike shop in Rochester NY offers a wide collection of bicycles, protective gear, and biking helmets from well known manufacturers. Our on-the-go hydration systems help cyclists with outdoor biking.
Check Out Our New Location on Browncroft Blvd!
Kicking off Year 2016 with 800 more square feet, we moved from Panorama Trail to the Browncroft Corners Plaza at 2501 Browncroft Blvd, Rochester, NY 14625 (on the corner of Browncroft Blvd & Blossom Rd). This new location allows us to increase inventory and add features like a service bar for customers to watch their bicycle repairs, and a dressing room for a full selection of cycling / fitness apparel. The new spot is also closer to premier mountain bike trails and road cycling routes like Tryon Park. We can't wait for you to visit!
Read More →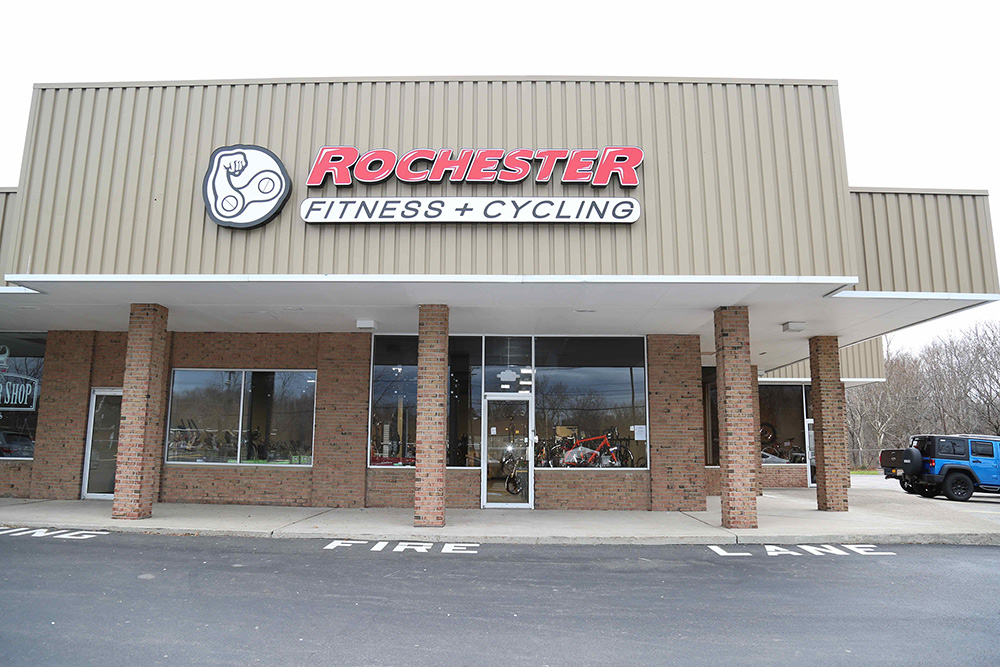 Start Shopping Now!

Do you know how to set up your brand new fitness equipment? How to care for your equipment if it malfunctions or gets damaged?
No need to worry!!! We provide certified repair services for fitness equipment and bicycles. Our bicycle shop in Rochester NY provides repair services for all the brands of bicycles that we offer. We offer professional installation services so you don't have to worry about managing the fitness equipment that you purchased from our online store.
We offer an exclusive 5 year labor warranty! What are you waiting for? Call us at: (585) 218-4110 or visit our store today to buy the fitness equipment and live a healthy life!
Always check our Facebook page for the most up-to-date information on latest fitness products, tips, and Rochester Fitness and Cycling News!

Contact Us Today!