A Colorado dentist accused of killing his wife by poisoning her protein shakes was formally charged Thursday as a family friend said she was "shocked" to learn about his double life. 
Prosecutors filed a first-degree murder charge against James Toliver Craig in Arapahoe County District Court, accusing him of having laced Angela Craig's drinks with arsenic and cyanide.
Police allege in an arrest warrant that Craig, 45, a dentist in Aurora, killed his wife to work on "starting a new life" with another woman.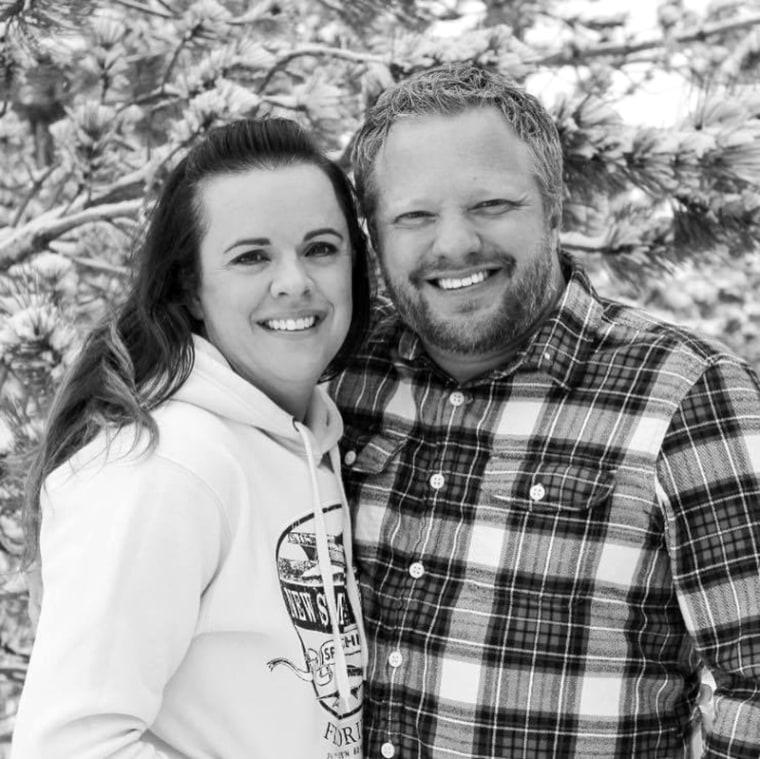 Angela Craig, a mother of six, was pronounced brain dead Saturday. She had gone to the hospital three days before complaining of a "severe headache" and dizziness, the third time she had been to the hospital in less than two weeks, according to the arrest warrant for her husband. That afternoon, she had a "severe seizure" and began to decline "rapidly," according to the arrest warrant. She was eventually placed on life support and died.
She was remembered in her obituary as having an "unbounded sense of humor and quick wit" and as someone who "used her gifts to elevate those around her, especially her children."
She was also active in the Church of Jesus Christ of Latter-day Saints, filling multiple positions, including choir director, teacher, youth organization leader and family history consultant, the obituary said.
"Ang's most endearing trait was showing up — to everything. Family and friends' weddings, funerals, graduations, baptisms, birthday celebrations, reunions, service projects, holiday celebrations," the obituary said. "She made sure to always be where she was needed, which is what she is still doing now. Ang is now and will be forever missed."
Laura Packard, a friend of the family whose husband grew up with James Craig in Kansas, said Angela was "a great mom" who was supportive of her children and her husband of 23 years, as well as an active member of her church and her community. She said that she had not been aware of marital problems between the couple and that the two "seemed happy when we were around."
She said she would have described Craig as intelligent and hardworking, as well as a deeply religious person who "came from a good family." 
"We were super impressed with the things that he'd done with his life and not to say that there was any question that he would do any less than that," she said.
"He was raised better than this," she said.
She said her family was "devastated" when they learned Angela had died and then in shock and disbelief at the allegations against Craig.
"The whole situation is just a shock, but to think that he had another life supposedly, that something else existed other than what we saw on the surface, that's also a shock to me," she said.
The public defender listed as representing Craig did not immediately respond to a request for comment. The state public defender's office says on its website that it is its policy and practice that attorneys and others representing people charged with criminal offenses do not comment on criminal cases. 
Angela Craig had been hospitalized previously, warrant says
The police warrant, which provides details about the Craigs' troubled marriage, reveals that friends and colleagues suspected that James Craig may have played a role in sickening his wife and that they shared those fears with authorities.
After having learned that Angela Craig was at the hospital on March 15, one of Craig's business partners told a nurse that he suspected she might have been poisoned, according to the warrant.
The business partner, who said he and Craig had known each other for more than 20 years and had been partners since Craig acquired his dental practice in August 2002, later told police that Craig had recently had an order of potassium cyanide shipped to their office, although there was no medical reason for such a substance at a dental practice, the warrant said.
The business partner told police that Craig had confided in him that he and Angela were having marital problems, according to the warrant.
Angela's sister told police that the marriage had "always been tumultuous" and that Craig "had multiple affairs with several women," had been "addicted to pornography" and had drugged Angela about five or six years ago, according to the warrant.
The sister said Angela had told her multiple times over the years that she was going to leave her husband, but she said that "James always convinced her to stay," the warrant said.
An office manager also told police that the couple were having marital problems and that Craig had recently mentioned his wife wanted a divorce, according to the warrant. The office manager also told officers that she had intercepted a package of potassium cyanide that had been delivered to the office days before Angela was hospitalized and that she was aware of her having fallen ill twice before.
Angela was first hospitalized March 6, the office manager told police, according to the warrant. James Craig made himself and his wife protein shakes before a workout that morning, she said.
The office manager said that after the workout, Angela became "faint and dizzy" and James Craig had to take her to the hospital, according to the warrant. 
The office manager said that during Angela's first two hospitalizations, Craig had said he did not think his wife was going to "make it," according to the warrant.
Potassium cyanide was shipped to James Craig's dental practice
Police said that leading up to Angela's third visit to the hospital, Craig told the office manager he was receiving a personal package that should not be opened. When the office manager found the package, which had already been opened, she noticed a biohazard sticker and a canister labeled "potassium cyanide," according to the warrant. The office manager saw that the package was for Craig and sealed it and gave it to him, the warrant said. 
Later, the officer manager did a Google search for potassium cyanide and noted that side effects of ingesting it "matched the same symptoms Angela had been exhibiting over the last week, including nausea, vomiting, and low blood pressure," according to the warrant.
The office manager contacted another colleague with information about the potassium cyanide package after Angela went to the hospital a third time with the same symptoms, according to the warrant. 
That co-worker told the business partner about the contents of the package, it said.
When the business partner confronted Craig about the package, Craig first said it contained a ring to surprise Angela, the warrant said. But he later admitted to its contents, saying that he bought potassium cyanide at Angela's request but that he did not think she "would actually take it," according to the warrant. The business partner then told Craig to stop talking and get a lawyer, according to the warrant.
According to the warrant, Craig told a case worker with Child Protective Services on March 16 that Angela was suicidal and that her depression had increased after he asked for a divorce in December.
Police said that during their investigation, "not one person has suggested or even seen any source of suicidal ideations from Angela."
"In totality, this investigation has proven that James has gone to great lengths to try and end his wife's life," the warrant said.
In a statement Friday, Angela Craig's family said they were "heartbroken over the loss of our sweet Angie."
"She was deeply loved by both the Pray and Craig families, and this is a very difficult time for all of us. We thank God for the knowledge that we will be able to be reunited with her someday," the family said. "We are so grateful for the compassion and concern everyone has shown for Angie and would ask for your continued thoughts and prayers."
Emails detail relationship with another woman
The warrant also details a relationship between Craig and a Texas orthodontist, whom he arranged to fly to Colorado while his wife was hospitalized.
Police said they found that Craig was using a new email account with multiple orders for poison, as well as emails that were "intimate in nature and contained sexually explicit conversations" with the Texas dentist.
"It appears James was flying this woman into Denver while his wife and the mother of his children was dying in the hospital," the warrant said.
The emails included dates for the Texas dentist to travel from Austin to Denver for a trip from March 8 to 10, according to the warrant. Angela was in the hospital from March 9 to 14. A flight itinerary for another trip, from March 16 to 20, was also among the emails, police said. 
Police included in the warrant an email alleged to be from the Texas dentist, in which it appears Craig told her something had happened to Angela.
"Hi honey, I am so sorry for what has transpired this week in your world," the email said, according to images included in the arrest warrant.
"I do want to give you any comfort I can but I do not feel it is right for me to mix in with all of those gathering to mourn Angela either and I do not want to meet your family as a friend and try to conceal what I feel for you," the Texas dentist wrote, according to the image in the warrant. "I love you."