Being a Bakersfield Dentist is a Family Thing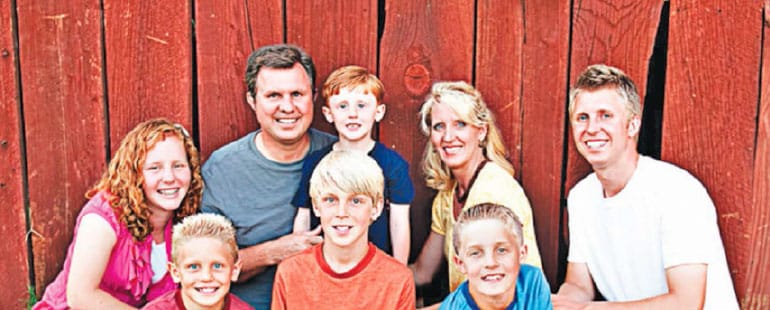 Bakersfield dentist, Dr. Krauss, takes the same approach in his cosmetic dental practice that he does with his wife and six kids… it's about family and about quality time. From the moment you enter the doors you'll be greeted by a comfortable and relaxing atmosphere. The inviting smiles of the Bakersfield Smile Design staff are only outweighed by those of Dr Ken's adoring patients that cover the wall, shelves and photo albums in seemingly innumerable quantities. Yes, it won't take long to sink in that you have finally found a cosmetic and general family dentist that knows being a Bakersfield dentist is more than just a trade or career, its an opportunity to bring out the best smile in everyone they meet.
Our Reputation is Dazzling
Bakersfield dentist, Dr. Krauss, has been Bakersfield's number one choice for quality dental care for almost a decade, having established a reputation for providing patients with permanent, beautiful smiles and a truly one-of-a-kind dental experience. Dr Krauss' results can be seen clearly reflected in the larger than life, dazzling smiles on his patients faces.
Like what you see so far? Take a look through the before and after photos of some of our more vocal Cosmetic Dentistry patients or hear what they have to say in our video testimonials
Providing Premier Cosmetic Dentistry
"It's not worth doing if you're not going to do it right" is a principle that Dr Krauss and Bakersfield Smile Design strive to live by. After earning multiple scholarships to attend Loma Linda University School of Dentistry, Dr. Krauss applied that principle and received multiple awards before graduating in 2001 with a Doctor of Dental Surgery (DDS) Degree.   He is a member of the Amarican Dental Association, the California Dental Association and the Tri-County Dental Association.  When Bakersfield dentist, Dr Krauss, began his education in Dentistry, he made a commitment to excellence which is reflected in by his commitment to stay at the forefront of his field by frequently attending educational conventions, seminars and training courses in order to stay current on the latest advancements in the world of dentistry.
Over the past 10 year Dr. Krauss has remained at the forefront of technology in order to provide his patients with a less painful dental care experience. His continuing education includes advanced training in implant dentistry, full-mouth reconstruction as well as keeping up with the latest innovations in cosmetic dentistry.
– Dr. Krauss

"Through the latest advancements in dental technology just about any dental issue with a patients teeth or smile can be corrected; however even the latest high-tech procedures can result in below average results unless they are used by an experienced, skilled and artistic dentist with a keen insight into a patients wants and needs. One of the reasons I love being a dentist is that the possibilities with your teeth are limitless. The high end technology that is available today enables me to give you an amazing, healthy, natural smile without pain or discomfort." 
A Well Rounded Cosmetic Dentist
Bakersfield Dentist, Dr. Krauss has incredible leadership and a commitment to dentistry is evident through his memberships in the American Dental Association, the California Dental Association, and the Kern County Dental Society. He continues to attend dentistry workshops and seminars in order to ensure that you receive the most up-to-date care available.
Dr. Krauss' passion for dentistry comes only second to his passion for life! Not only is Dr. Krauss fluent in German and loves studying philosophy, he is also an avid outdoors-man and dedicated family man. Be it coaching Little League baseball or taking his family on camping, fishing or biking trips, Dr. Krauss looks for just about any opportunity he can find to get in some fresh air and physical exercise.
Dr. Krauss also believes in being as self sufficient and well rounded as possible. Quite often he can be found putting his green-thumb to use on his family farm, teaching his kids how to garden and care for horses and other farm animals. Bakersfield dentist, Dr. Krauss also loves outdoor photography, something he may have acquired during his time serving as a fire fighter in beautifully scenic Ketchikan, Alaska or while serving as a Boy Scout leader for the past 15 years.
We hope you have enjoyed learning about you local Bakersfield dentist, Dr. Krauss, and the Smile Design practice. If you would like to schedule an appointment or get answers to any of your cosmetic dental questions, please fill out our new patient form.