Please Note:
Family Medicine has moved to the Shapiro Building, Floor 5C, 725 Albany Street Boston, MA 02118. Please contact the department for the latest information.
Family Medicine is primary care for individuals and families across all ages, genders, and diseases. Family Medicine providers care for all members of a family during all phases of life – infancy, adolescence, adulthood, and senior years.
Patients who receive care from Boston Medical Center's Department of Family Medicine select a primary care provider from a group of physicians and nurse practitioners who are trained to meet their healthcare needs, whether in the office, hospital, at home, or in a nursing home. This provider partners with a team dedicated to coordinating the patient's care which includes staying healthy, arranging tests to manage chronic conditions, referrals to integrated behavioral health providers and medical specialists, streamlining hospital admissions, and more.
Services provided in Family Medicine:
Prenatal Care
Family Medicine is proud to provide comprehensive prenatal care for women. Skilled family physicians are trained to treat a variety of obstetrical concerns, and provide care in the Women & Infants Center when it is time for baby to be born and after baby is born. Some providers have surgical training, and are experienced in caring for women who have had, or may require a Cesarean section to safely delivery their baby. Additionally, Family Medicine is delighted to offer care for newborns. 
Substance Use Disorders
The Family Medicine clinic provides care to patients with substance use disorders (addiction to opioids, alcohol, cocaine, and other substances). Providers are trained to initiate treatment with Suboxone, Naltrexone and Vivitrol, and host weekly group visits where patients taking Suboxone can meet with a doctor and a behavioral health specialist to discuss long-term maintenance therapy.
Treatment for hepatitis C is also available. 
Other services offered in Family Medicine include:
Pediatric care 
Adult physical exams
Immunizations
Mental health counseling and therapy
Group support for chronic pain 
Massage
Acupuncture
Consultations with our pharmacy team and certified diabetes educators 
Minor procedures (including but not limited to IUD and Nexplanon insertions, skin biopsies, skin tag and wart removals, joint injections)
Treatment of Hepatitis C
Family Medicine also offers open access scheduling, which means patients can make appointments convenient to their schedules, including same day and same week appointments for routine and sick care services.
To make an appointment, call 617.414.2080.
Monday 8:00am-8:00pm
Tuesday 9:00am-5:00pm
Wednesday 8:00am-5:00pm
Thursday 9:00am-8:00pm
Friday 8:00am-5:00pm
When a patient visits, he or she will always see a member of their care team. The care team includes the patient's physician or nurse practitioner, or someone with whom they work very closely, who understands the patient's health history.
---
Family Medicine offers geriatric services for those over age 70. These providers have extra training in caring for the elderly. Whether in the office, hospital, or nursing home, they provide high-quality, continuous and comprehensive care to this special population. The geriatrics team also care for patients at Harborlights Rehabilitation and Nursing Center in South Boston and St. Joseph Nursing Care in Dorchester.
---
Integrative medicine combines the best of conventional medicine with safe, effective, evidence-based complementary therapies such as acupuncture, massage, and yoga. The mission of the program is to substantially impact the quality of life for the urban underserved by providing access to integrative medicine clinical services, research, and education.
---
The Ryan Center is a multidisciplinary sports medicine practice offering physician services provided by Boston Medical Center doctors. The Ryan Center delivers a range of services including injury diagnosis and treatment, physical therapy, nutrition programs, athletic training and much more. Learn more about the Ryan Center
---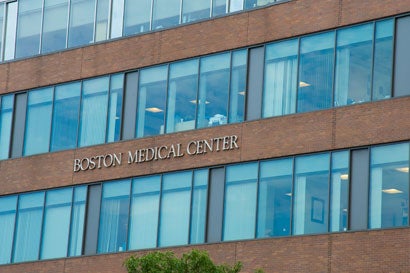 Address
11 Melnea Cass Blvd.
Boston, MA 02119
Hours
Monday, Wednesday, Thursday – 8:00AM – 8:00PM
Tuesday – 9:00AM – 8:00PM
Friday – 8:00AM – 5:00PM