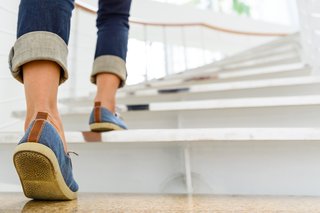 The secret to getting fit for free is to use every opportunity to be active.
Walk everywhere
Walking is one of the easiest ways to get more activity into your day, lose weight and become healthier. Research shows people who fit moderate activity, such as walking, into their daily life burn more energy than those who make weekly visits to the gym.
Try to fit walking into your routine by not using the car for short journeys, walking all or part of your journey to work, getting off the bus or train one stop early, and planning longer walks at the weekends.
Further information
Couch to 5K
Couch to 5K is a free running plan for absolute beginners. Running is great for weight loss, improving heart and lung function, strengthening bones, and giving you a general sense of wellbeing. 
The Couch to 5K plan involves 3 runs a week, with a day of rest between each run and a different plan for each of the 9 weeks.
Find out more about Couch to 5K.
For graduates of Couch to 5K or regular runners, try 5K+ running podcasts, a running podcasts series designed to work on your technique, speed and stamina.
Strength and Flex workouts
Fancy a personal trainer, but cannot afford one? Download our Strength and Flex exercise plans and get a fitness coach for free.
The virtual trainer will guide you through a series of equipment-free exercises designed to improve your strength and flexibility.
The workout instructions and pace are easy to follow to ensure you do each exercise correctly and in time. The 5-week Strength and Flex plan consists of 5 podcasts, each 35 to 45 minutes long, which are available as a mobile download for smartphones and some wearable fitness trackers.
Cycle to work
Whether you're cycling to work, school, the shops or just for fun, the humble bicycle is an easy way to be more active.
Cycling to work is one of the easiest ways of fitting exercise into your day. It'll also save you money on petrol or public transport costs. If you do not have a bike, you may be able to get an affordable bike through the government's Bike2Work scheme. 
Further information
Stair climbing
If you're looking for an easy way to add more activity into your day, take the stairs. Stair climbing burns more calories per minute than jogging and counts towards your recommended 150 minutes of weekly exercise.
Research shows that regularly walking up stairs is good for strong bones, cardiovascular fitness and weight management. It's also a safe, low-impact exercise that requires no equipment.
Park games
Remember the games you used to play in the playground? Games like hide-and-seek, "it" and "stuck in the mud" are not only good fun, they're an excellent way for all the family to be active, too.
These types of games involve short bursts of intense activity and periods of rest, which are very effective for improving fitness, especially if you're not usually very active.
Further information
Home exercises
Burn calories, lose weight and feel great with our selection of equipment-free home workout routines, including:
10-minute home workouts to improve your general fitness and tone your tummy, legs, arms and buttocks
take it up a notch with our selection of gym-free workouts to improve cardiovascular health, strength and general fitness
If you're looking for something less energetic, try:
Skipping
An excellent way to keep fit, skipping can be done anywhere at any time.
Just a few minutes of skipping brings a range of health benefits, including heart and lung fitness, stronger bones, balance and flexibility. The average person will burn up to 200 calories during 15 minutes of skipping.
Skipping is a strenuous exercise, so start slowly at first. Try skipping for 20 to 30 seconds, marching on the spot for 30 seconds, and then repeat. As your fitness improves, you can increase the time you spend skipping.
Once you have perfected the basic moves, you can make your workout more interesting by trying different jumps.
Trim trails (outdoor gyms)
Trim trails (also known as outdoor gyms, fitness trails or activity trails) are made up of simple pieces of exercise equipment, such as parallel bars, leapfrog blocks, inclined press-ups and balance beams and are found around parks, recreation areas or alongside cycle routes.
The free equipment can be used to do various exercises, including step-ups, sit-ups, lunges and press-ups, to develop balance, strength and co-ordination.
Search online to learn how to do the exercises properly to get the most from them and avoid injury. Contact your local authority to find out if there's a trim trail in your area.
Green Gyms
Improve your health and the environment at the same time with the outdoor alternative to the gym. Work up a sweat digging, planting, lopping and clearing paths at one of 95 free Green Gyms around the country run by The Conservation Volunteers.
Experienced leaders guide volunteers through a range of practical projects, giving you the opportunity to tackle physical jobs outdoors. This can improve your strength and stamina, and boost your practical skills and confidence.
There are sessions for all fitness levels, and no previous gardening or conservation experience is necessary.
Find a free Green Gym near you
Outdoor gym
Look around you: the world is your gym. With this in mind, the National Trust and outdoor exercise specialists Eco Fitness have produced a free outdoor fitness programme you can follow, whatever the weather.
The 31-day plan has been designed to ease people into being active outdoors and make exercise fun rather than a chore. 
No equipment is needed. Exercises in the challenge include power walking, tree press-ups and "spotty dogs" (stepping backwards on the spot using opposite arms and legs).  
Find out more about the National Trust outdoor gym programme.
Military-style fitness classes
Military-style fitness classes are happening in parks around the country. There's no reason why you cannot create your own boot camp-style workout for free, and without someone barking orders at you.
Just plan your routine, mixing running with a series of exercises such as jumping jacks, squats, lunges, running up and down stairs, press-ups, bench dips and squat thrusts.
Do some research online to make sure you're doing the exercises correctly before starting. For extra motivation, try to enrol a friend to do the boot camp sessions with you.
Free equipment
People often give away fitness gear, such as weights, skipping ropes or exercise balls. They are the kind of things people buy with high hopes and the equipment then lies around gathering dust.
Check community freebie websites such as Freegle and Freecycle and send emails saying you're looking for exercise equipment. Search regularly and you might get lucky.
Another option is to swap your own unwanted exercise gear for some different sports equipment using websites such as Swapz.
Saving money on gym passes
If you want to give a gym a try or you're developing withdrawal symptoms after cancelling a membership, take advantage of the free 1-day gym passes many chains offer.
The gym's employees will probably try their best to get you to sign up for paid membership afterwards, but there's no obligation whatsoever for you to do so.
Many non-profit gyms, such as the YMCA Community Gyms, offer discounted gym membership and facilities for people receiving benefits, such as Universal Credit or housing benefit.
The Money Advice website has more advice on getting a cheaper gym pass.
Page last reviewed: 30 December 2019
Next review due: 30 December 2022