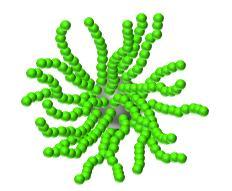 Using archival documents, a new report published online by JAMA
Internal Medicine examines the sugar industry's role in
coronary heart disease research and suggests the industry sponsored
research to influence…

For the first time, abnormal brain development following a Zika infection during pregnancy has been documented experimentally in the offspring of a non-human primate.
Related science articles
This year, the U.S. reported for the first time that a patient had
been infected by bacteria resistant to colistin, an antibiotic of
last resort. The announcement followed several years…
Related science article

Acute exacerbations of chronic obstructive pulmonary disease, or
COPD, are associated with significant long-term lung function loss,
according to research published online, ahead of print in the
American Thoracic Society's…
Related science article
More people are eating gluten-free, although the prevalence of celiac disease appears to have remained stable in recent years, according to an article published online by JAMA Internal Medicine.

A new class of drugs called HIF-2 inhibitors is more effective and
better tolerated than the standard of care drug sunitinib in
treating kidney cancer, researchers with the Kidney Cancer…
Although the causes of Alzheimer's disease are still unknown, it is
clear that the disease commences with progressive amyloid
deposition in the brains of affected persons between ten and fifteen…
Related science article

A research group under the leadership of Linköping University
Professor Markus Heilig has identified an enzyme whose production
is turned off in nerve cells of the frontal lobe when alcohol…
28 Aug 2016: The Mediterranean diet is associated with a reduced
risk of death in patients with a history of cardiovascular disease,
according to results from the observational Moli-sani study…

Researchers at the Stowers Institute have established a definitive link between the makeup of the microbiome, the host immune response, and an organism's ability to heal itself.

A research team from the University of Bonn has succeeded for the
first time in using light stimuli to stop life-threatening cardiac
arrhythmia in mouse hearts. Furthermore, as shown in…
Related science article
Soccer is an increasingly popular sport in the United States, both
professionally and recreationally, with over 3 million registered
soccer players under 19 years of age playing in leagues every…
Related science article
Farber Cancer Institute investigators report they have discovered a
type of immune antibody that can rapidly evolve to neutralize a
wide array of influenza virus strains – including those the…
Related science articles
University of Oregon researchers have found links between the levels of antimicrobial chemicals and antibiotic-resistance genes in the dust of an aging building used for athletics and academics.
Related science article

Using electric fans to relieve high levels of heat and humidity may, surprisingly, have the opposite effect for seniors, a study by UT Southwestern Medical Center heart specialists suggests.
Related science article
A new Cochrane Review, published in the Cochrane Library
today and presented at the ERS International Congress, has found
evidence from randomised trials, that taking an oral vitamin D supplement…
Related science articles

Parts of Africa and the Asia-Pacific region may be vulnerable to
outbreaks of the Zika virus, including some of the world's most
populous countries and many with limited resources to…
Related science articles
Patients with cancer have heightened risks of unintentional and intentional injuries during the diagnostic process, reveal findings from a large study published by The BMJ today.
Related science article
A test that can detect Parkinson's disease in the early stages of the illness has moved a step closer.
A new study suggests gaps exist in the treatment of depression with
many individuals who screen positive for the mental health disorder
not receiving treatment, according to an article published…
Related science articles

A team of researchers from Florida State University, Johns Hopkins
University and the National Institutes of Health has found existing
drug compounds that can both stop Zika from replicating in…
Related science articles