WHAT'S NEW?
---
Want to be a medical device security expert?
Calling all engineering master students interested in embedded systems for an opportunity to join Dr. Kevin Fu in a masters research program at the University of Michigan Ann Arbor! Interested candidates must apply by 1/15/20 and mention Archimedes. 
---
December 17, 2019 

Why Securing Medical Devices Is So Challenging
A conversation with Archimedes 101 Conference Co-Chairs Matt Russo and Ken Hoyme for Health Info Sec
https://t.co/KcNODLvR6z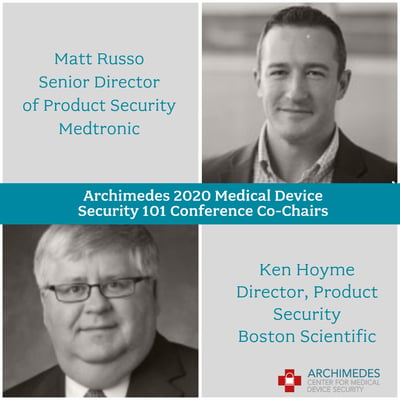 ---
November 4, 2019
Kevin Fu speaks to NBC Nightly News about his team's discovery of a microphone vulnerability found in Siri, Alexa, and Google Home
The team's work is presented in the paper "Light Commands: Laser-Based Audio Injection Attacks on Voice-Controllable Systems," with additional information online at  https://lightcommands.com/
---
September 17, 2019
University of Michigan students from the SPQR lab represent Archimedes at DEF CON 2019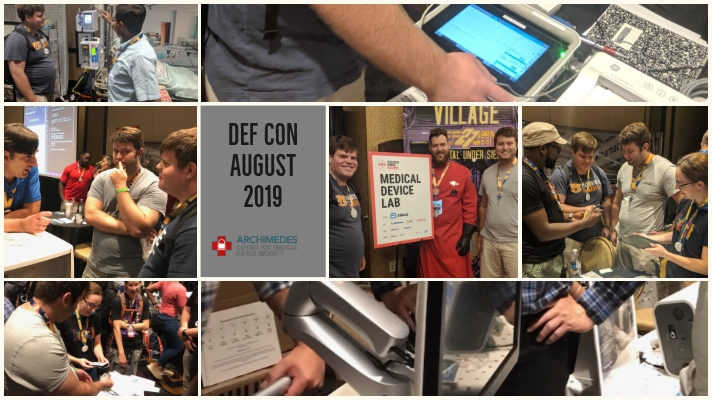 "Through Archimedes, Ben Cyr and I were able to attend DEFCON this year for the first time. For those that have not been to DEFCON, to say the least it is certainly a different kind of event due to the interesting talks, the mob of hackers stumbling around Vegas, hands-on security workshops, and the "villages" with direct access to products such as medical devices or voting machines. We knew we had truly arrived when an ambulance passed by and a random attendee commented on how "cool" it would be if someone had hacked a pacemaker.
In between the craziness described above, we managed to have several productive conversations with medical device manufacturers and attended several interesting talks — particularly at the Biohacking Village. This village included medical device themed talks, hands-on workshops, and a medical device lab. Ultimately, we spent the majority of our time at the medical device lab partially due to full physical access to examine (and hack) several of the devices. But even more importantly, we could talk medical device security with several software and hardware engineers from attending medical device companies. On our end, we believe the relationships and ideas born from these interesting interactions may lead to future research. Similarly, I believe these conversations may have helped these engineers consider new threat vectors. Overall, this experience was very fruitful and fulfilling, and we hope to attend next year and see more medical devices there!"
-Connor Bolton
Graduate Research Assistant
CSE  University of Michigan