Ukraine took back the village of Vysokopillia in Kherson on Sunday and raised its flag over a hospital following reported "successes" in the region that fell to Russia on March 3, a week after Russia invaded the Eastern European country.
Yuriy Sobolevskyi, first deputy head of Kherson Oblast Council, announced on Telegram that Vysokopillia was liberated from Russian control. The region is significantly important because it's a strategic location at the mouth of the Dnieper River's exit into the Black Sea.
The Kyiv Independent reported on Twitter that forces also raised the Ukrainian flag in Vysokopillia, which is located north of the Kherson region on the administrative border with the Dnipropetrovsk region, according to Ukrinform.
Samuel Ramani, an associate fellow at the Royal United Services Institute for Defence and Security Studies, said on Twitter that the flag was raised on a hospital roof in the village. A few other Twitter accounts, including Ukraine updates, made the same announcement.
"The flag is on a hospital roof in Vysokopillya, Kherson Oblast," Ramani tweeted. "Russia is cracked down on any displays of Ukrainian nationalism inside Kherson and reportedly raised a Soviet victory flag in Kherson after its occupation."
Russian forces have sent many villagers fleeing from their homes, as troops took over dozens of towns and villages since the invasion began on February 24. Some of those who fled Russian-occupied territories were desperately seeking safety as they escaped on foot, bikes, and by wheelchair, NPR reported in July.
However, Sobolevskyi recently said that Ukrainian forces have successfully achieved some goals in the Kherson region amid the counter-offensive they reportedly launched on Monday.
"Now is the time to support our armed forces," Sobolevskyi said last week, according to Reuters. "Now is not the time to talk about the specific successes of our lads"—as he spoke of Ukraine's efforts in the Kherson, Beryslav and Kakhovka districts.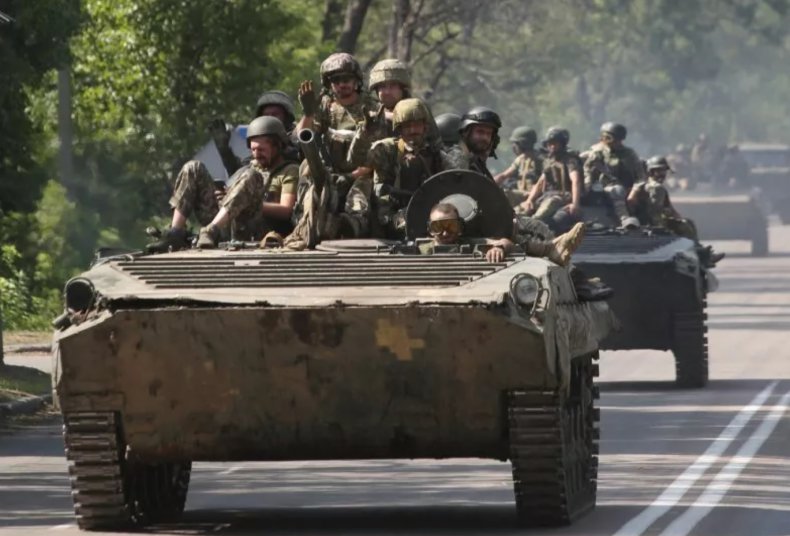 The Ukrainian military insisted on not revealing information about the offensive in the south of the country, but the presidential office reported "powerful explosions" and "tough battles" in the region, adding that Ukrainian troops destroyed ammunition depots and large bridges across the Dnieper River that are necessary to send supplies to Russian forces.
Ukrainian forces also recently moved forward with their goals against Russian troops as it took advantage of Russia's poor leadership, administration, and logistics, the British Ministry of Defence said on Saturday. Additionally, Ukrainian air forces took down a Russian reconnaissance drone named "Kartograf" in the Mykolaiv region.
Newsweek reached out to the Russian foreign affairs ministry for comment.